Ad blocker interference detected!
Wikia is a free-to-use site that makes money from advertising. We have a modified experience for viewers using ad blockers

Wikia is not accessible if you've made further modifications. Remove the custom ad blocker rule(s) and the page will load as expected.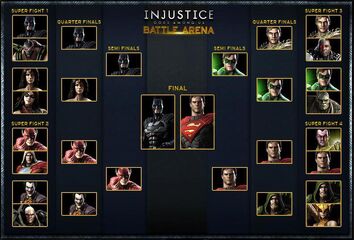 The battle for DC supremacy begins with the Injustice Gods Among Us Battle Arena. For 10 weeks, challengers will square off in the Battle Arena. Fans choose the victor each week. There are weekly giveaways to the fans who vote. Voting can be done at this link [1].
Super Fight 1:
Match One
Match Two
Super Fight 2:
Match One
Match Two
The Joker vs. Lex Luthor
Super Fight 3:
Match One
Match Two
Green Lantern vs. Solomon Grundy
Super Fight 4:
Match One
Match Two
Green Arrow vs. Hawkgirl
Quarter Finals
Match One
Batman vs. Wonder Woman
Match Two
Match Three
Aquaman vs. Green Lantern
Match Four
Superman vs. Green Arrow
Semi Finals
Match One
Match Two
Finals
Location: Fortress of Solitude
Weekly Giveaways
Super Fight 1:
Avatar/Theme
Arrow DLC Skin
Super Fight 2:
Avatar/Theme
Arrow DLC Skin
The Watchtower Prize Bundle
Super Fight 3:
Avatar/Theme
Arrow DLC Skin
The Ferris Aircraft Prize Bundle
Super Fight 4:
Avatar/Theme
Arrow DLC Skin
The Metropolis Prize Bundle
Quarter Finals:
Avatar/Theme
Arrow DLC Skin
The Hall of Justice Prize Bundle
Semi Finals:
Avatar/Theme
Arrow DLC Skin
The Batcave Prize Bundle
Finals:
Avatar/Theme
Arrow DLC Skin
The Fortress of Solitude Prize Bundle
Gallery
Images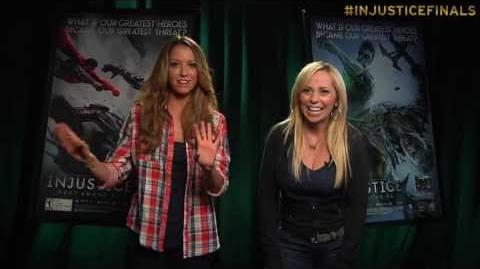 Video