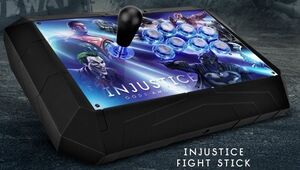 Injustice: Gods Among Us Battle edition is a special edition of Injustice: Gods Among Us .  It will feature a special joystick controller with 8 buttons. It also comes with 3 new DLC skins of Batman, Superman, and Wonder Woman from the New 52 comics. The  recommended price is  $149.99.
References
-Injustice: Gods Among Us hits April 16, Battle Edition revealed -Joystiq
Ad blocker interference detected!
Wikia is a free-to-use site that makes money from advertising. We have a modified experience for viewers using ad blockers

Wikia is not accessible if you've made further modifications. Remove the custom ad blocker rule(s) and the page will load as expected.